Discussion Starter
·
#1
·
The past couple weeks, the incoming tide has far exceeded the outgoing tide for us and I will tell you my theories on why this occurs. But first the pictures. We had an outstanding three days of fishing, going through 30 spot in no time at all. Had many double, several triple, and one quadruple hookup. Wecaught between 20-30 fish each day, getting our slot limit everyday, many tweeners, one 35, one 36, and one 38. About 20% of the fish were shorts as well. When we used up all our spot, the guys were able to catch them on bucktails and storm shad as well. The first crew was Billy Baitslinger and his young son Peter, with Billy's pals Curt and Bill Donovan (not the one you guys know
. Great to see young Peter get his first three stripers. All the crew caught well and it was a great pleasure to see the guys hooking the fish so well. Billy and his pals have fished with me many times and it was great to have him back onboard again. This trip was a striper Bonanza.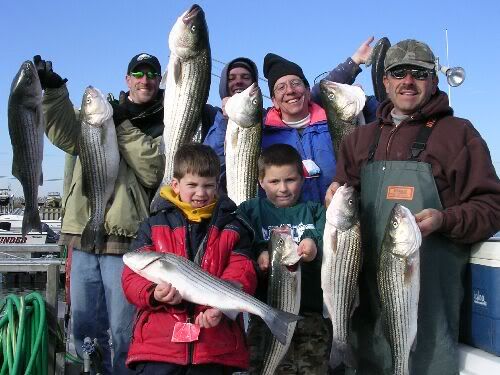 Next trip was Brian Mullaney with his wife Jodi and Brian's pals Tim and Chris. Jodi was the live bait catching specialist. She was so good she even caught three stripers on one minnow. We found on this trip that large minnows worked well to catch stripers, so don't throw those big minnows away at the end of fluke season. Brian, Tim, and Chris fished unbelievably well together. These guys casted in rotating fashion, hooked up fish, and released them in a well choreographed fashion. Their skills at bucktailing were amazing. It was like watching an ESPN fishing show. I persuaded them to keep some fish so we could have a few to eat. Way to go guys.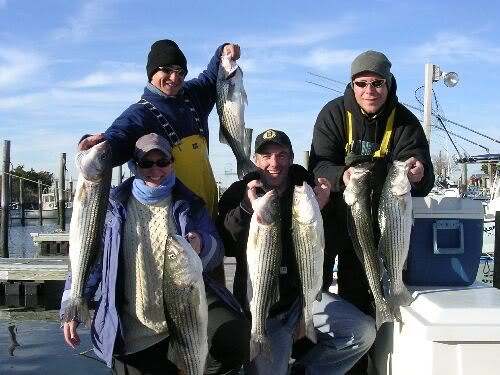 On Sunday, my very good friend Barry (Capbar), my RFA Pa membership chairman Bob Bolger, and two of his friends had an outstanding day as well. This crew had the quadruple hookup and were glad we took 30 spot with us. We could have used more. Great having you guys as well and I enjoyed watching you hook up those fish.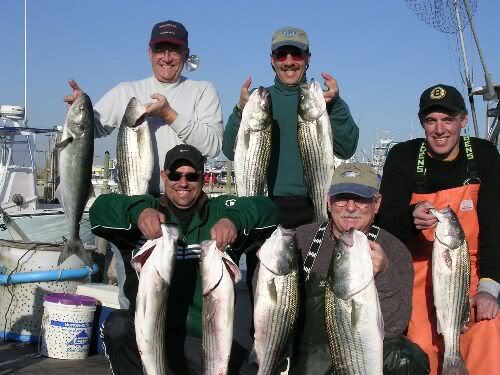 My thoughts on why the incoming was the better tide the last couple weeks are as follows. One obvious reason is that the incoming tide gives us cleaner water to fish, which is necessary for the sight fishing game of rip fishing. On Sunday, the outgoing tide was pretty clean, but the fishing was not as good. Obviously, water clarity is not the only reason. This time of year, most of the inshore bait has left the back bays and inlets in the Cape May area. Thus, the flushing effect of bait on the outgoing tide is a minimal effect. The incoming tides bring in a fresh supply of ocean migrating baits, which use the currents to amplify their swimming ability. When the water is calm inshore, the baitfish come in closer to shore for the protection it gives them on their southern migration. Stripers use their olfactory sense to track the excrement and oil trails of these baitfish and follow them in on the incoming tides. The incoming cleansing waters, the migrating baitfish, and particulary when this coincides with the AM hours, makes for an outstanding bite. Many of the fish we caught had silver perch in their bellies, which were migrating through. The bigger fish we caught had ling in their bellies. The smaller fish had silversides in their bellies. This offshore vs inshore bait species migration pattern determines in part, how good the inshore striper bite will be. Some more details have appeared in the New Jersey Angler magazine this past fall season. Catch em up guys, and see you out there.
[ 11-23-2005, 04:20 PM: Message edited by: Capt Harv ]