Discussion Starter
·
#1
·
Feel Free To Post Your Fluke/Tog/SeaBass
Reports.As Little or As Much Info that you like..
So Catch That Drift or Anchor Up Its Bottom
Dweller Season- Good Luck Out There....
-------------------------------------------------
Well I don't target Fluke to often,but when we start to catch them by accident in the middle of the night they must be getting ready to turn on.
Here is a recent article and fishing report about the Bottom Dwellers here in N.J.
-----------------------------------------------
Fluke, sea bass are here; chilly water slowing bite
Published in the Asbury Park Press 05/27/05
BY JOHN GEISER
CORRESPONDENT
One of these days the ocean will warm enough that anglers will find there are more species of fish in abundance than just striped bass and bluefish.
There have been hints, occasionally, but the proof will not be revealed until the water temperature moves out of the low 50s.
Capts. Phil Dulanie and Mark DeBlasio, Canyon Runner, Point Pleasant, fished a wreck in 75 feet of water, 20 miles south of Manasquan Inlet recently with the Sean Mallory charter from Holmdel.
The intent was to get into some of that early sea bass action ? big humpbacks that are eager to hit strips of squid or clams. Instead, they had what Dulanie described as a "very slow pick" of keeper and short sea bass.
A couple of further moves to deeper wrecks were not as productive though the readings of fish on the machine were solid. The anglers were frustrated to the point where they actually jigged their rods and proved the fish were sea bass by snagging some.
"The fact is the wrecks seem loaded with sea bass, but the bottom temperature must be way too cold to get them to turn on," commented Adam LaRosa of the Canyon Runner staff.
He reasoned that on that day they also fought a southerly current that may have led to the slow bite. They wound up with 30 sea bass and six keeper blackfish in the box.
Another trip with the Todd Polumbo charter from New Haven, Conn., produced a similar response from the blackfish and bass. The party went home with 40 sea bass, 10 blackfish and a codfish.
Mike Paras, Lakewood, feels the cold bottom temperatures are inhibiting the fluke as well. He fishes for the flatfish two or three days a week, and admits he is ahead of last year's slow beginning for keepers, but, overall, feels the fishery is behind last spring at this time.
Monday he was out in the Manasquan River and caught 18 fluke, four of which were keepers. His heaviest was 3 1/4 pounds. The action came on bucktails and live killies.
"I fished with an eighth-ounce Mai Tai bucktail, and found I had to jig it very slowly on the bottom ? never lifting it more than six inches to a foot, and usually only two or three inches," he said.
"The fluke I cleaned were feeding on shrimp," he said. "They were loaded with them."
Dave Arbeitman, The Reel Seat, Brielle, fished with Capt. Brock Dalton on the Capt. Cal II, Belmar, and reported a pick on fluke in the ocean. Arbeitman stuck with the bucktails and caught two keepers.
Ed Klump, Neptune, said fluke fishing is improving in the Shark River. He was out May 16, and had three keepers up to 3 1/2 pounds in 55-degree water.
Ed and his son, Bill, also of Neptune, had seven keepers to 4 pounds when they fished the day before. Charles Dana, Farmingdale, stopped at Fisherman's Den, Belmar, with eight keepers to 4 pounds.
Paul Whitam, Dover Township, stopped at Jersey Coast Bait-N-Tackle, Brick, with a 4.2-pound fluke caught on a Wiggle Rig tipped with a squid strip. He drifted in the Manasquan River.
Patrick Basilicato, 15, Middletown, fished from the Leonardo beach with a metal snapper lure and caught a 6.85-pound fluke that he weighed at Julian's Bait and Tackle, Atlantic Highlands.
Chris Salus of Crabby's Bait and Tackle, Keyport, said Dan Kurinzi, Keyport, fished the Keyport Flats, and caught a 7 1/4-pound fluke on killies and squid.
Joe Thomas, also of Keyport, fished around the No. 3 Can in Raritan Bay, and had eight short fluke and six keepers plus an 8.3-pound weakfish. All were caught on killies and squid.
Capt. Ed Bunting Jr., Sea Horse, Atlantic Highlands, pointed out that cold water, currents and adverse winds can affect the fluke fishery even in protected areas of Raritan Bay, but he is finding fish in a variety of spots.
He said the Bug Light and the Coast Guard docks have produced their share of fish, and drifts along the Sandy Hook beachfront have yielded 50 to 60 keepers on some days.
Tom Vogel, Waretown, had seven keeper fluke and 15 blues on one trip, and Frank Dalbo, Morristown, had four keeper fluke and 15 blues.
------------------------------------------------
Some Recent Catches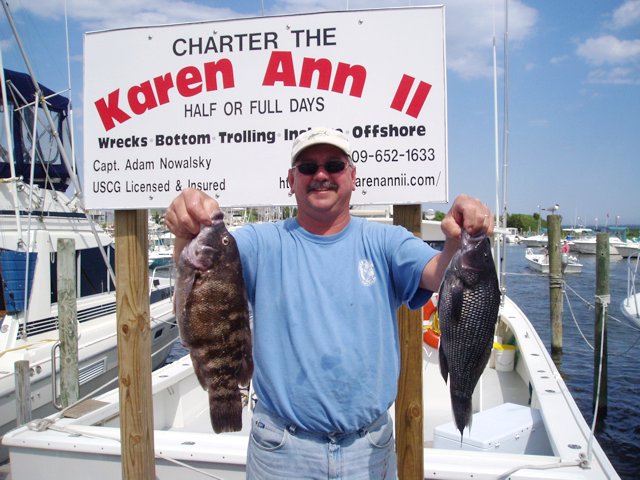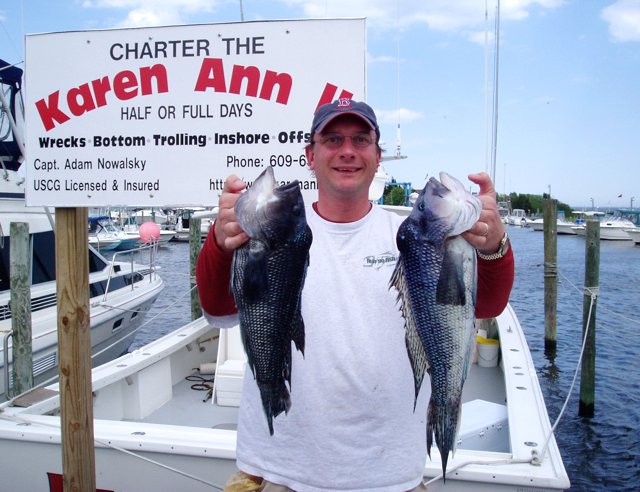 [ 06-01-2005, 04:58 PM: Message edited by: NIGHTSTRIKES ]