Discussion Starter
·
#1
·
For the past 3 years Saltywater Tackle have been opening the jigging and popping season in North Carolina, it is a like a tradition to us and we will very much keep it going,
We have been talking on a daily basis with Captain Ned Ashby from Sea Breeze and Captain Dan Rooks from Tuna Ducks to check on the bite and most important to find out if the fish showed up!
We got the call last week but the weather was not in our favor and a major decision needed to be made as Chris, Hot's field tester is flying down from California,
I wanted to go badly as I know we will do well, many guys are waiting for the bite report to start before pulling the trigger and commit to a trip, while I know it is a matter of going out and putting in the time, so off we go with a total 4 anglers,
Chris, Paul Ilya and I took the drive and made it right before light,
Greeted by Captain Ned and first mate George and off to the spot.
After 15 minutes trying to raise the fishes up with a spreader bar we saw a fish annihilating the teasers, all 4 of us casted but no love, then all of a sudden Captain Ned shouted, I am marking fish, 4 jigs cut through the water column,
Chris came tight and fights the fish and loses it right next to the boat,
30 minutes goes by and again 2 jigs goes down and I came tight on the new Saltywater Tackle Outer Banks prototype jigging rods, more detail will follow as we are in the process of testing a couple of jigging rods that we are designing for the massive Blue fin tunas in the Outer Banks.
After 40 minutes I landed my first Blue fin tuna and we opened the season, the fish estimated at 320lb and measured 81 inches,
Again I made a cast and came tight with the Race Point 200 and the Shell Shaping twister lure, fought the fish and brought it to color in under 20 minutes, the fish measured 84 inches and estimated at 340lb,
Chris came tight next and he lost the fish right away as she bit through the leader, dropped the jig again and Chris came tight again and he finally landed a nice 80 inch fish estimated at 300lb,
All fishes landed free style and none of us used any harness !!
What a day for us and to open the season, another group will be arriving on Monday. We will keep you guys posted!
Tackle used:
Hot's One Pitch Slider 56XH
Race Point 200, 250, 300
Valley Hill EXP-55XXB The Maori Spirits
MC Works Southern Deep Ultimate Monster SD538XX
Saltywater Tackle Outer Banks 400 jigging rod (MORE DETAILS TO FOLLOW)
Line used: Sunline PE Jigger 8HG, Shout Sasame PE Premium, Varivas SMP
Popping Leader: Saltywater Tackle twisted leader
Lure & Jigs: Shell Shaping Twister,Shout Shab Shab & Stay, Hot's drift tune, Deep Liner
Enjoy the pictures guys !!
Tight lines
Sami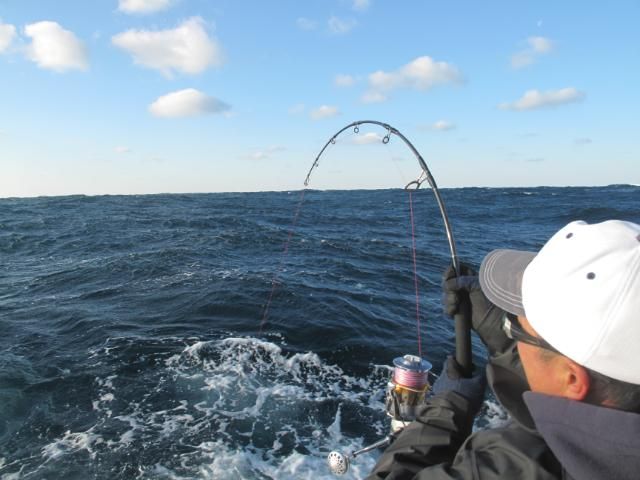 Saltywater Tackle Outer Banks 400 prototype jigging rod