Discussion Starter
·
#1
·
There sure is something special this time of year that awakens you before the sun rises and keeps you out fishing till the sun is setting. The cooling waters earlier sent the mullet seaward followed by the peanut bunker and rainfish, for staying behind means certain death as they would succumb to waters beyond their temperature tolerance. The large cows enterred the bay early as they do every year following the initial surge of large mullet. School and midsize fish enterred the inshore waters to forage as the bait fish tried to beat them to the south. Schools of bunker migrated offshore of Cape May, their scent trails leaving pathways for ensuing stripers. Although the turbulent weather early this season caused many stripers to migrate beyond the state limits, enough came inshore to provide for a fun fishery. With the slow to cool waters (53 degrees on Saturday), the best fishing has just begun!
The fall seasons see alot of sudden wind changes as typified by this past weekend. Friday we fished in close in blustery NW winds and managed to put this catch together. Luckily the shoreline blocks the NW wind and allows fishing in crafts of safe size.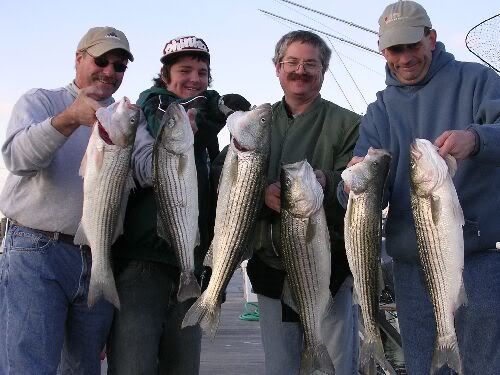 Saturday was a beautiful day. Had NeverSatisfied (Harry), his son Kyle, Bill (Newsbuoy) who also mates for me sometimes, and Dave on board. We fished from dawn to dusk as I hated to come in on such a beautiful day. We were lucky enough to find fish on some rips that had no other boats on them. Of course that didn't last long but we had alot of fun. The guys caught well and released quite a few fish as well. Here is Kyle battling one of many fish he hooked, being high hook for the day. Great to see youngsters getting into this wonderful sport.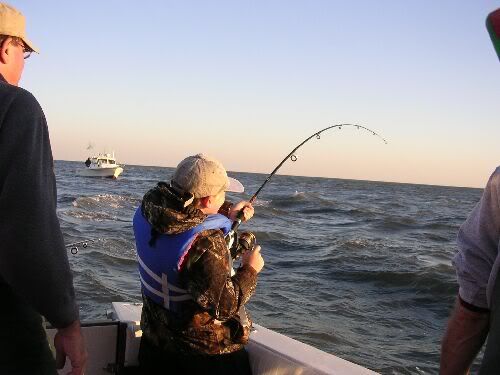 Father and son both hooked up. It doesn't get any better then that!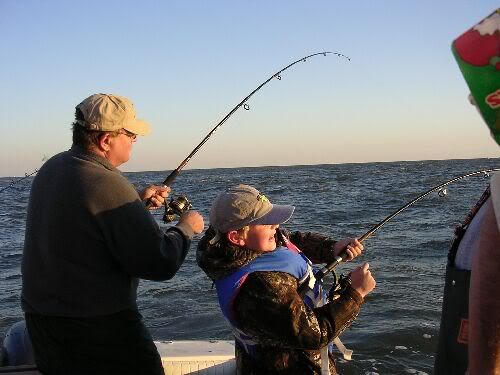 Picture at the dock at the end of a fun day. Pictured left to right, Harry, Bill, Kyle, dave