Discussion Starter
·
#1
·
Six years ago when I became addicted to trout fishing, I set a goal to one day reach the "century mark" - 100 trout in a day. The first year, I was happy when I broke double digits. As I became a better trout angler over the past few years, my catches per day increased, but 100 trout in a day always seemed to evade me. I came close a few times last season, but the one thing I was always short on, was time.
After 235 outings for trout (I have them logged in Excel – that's the accountant in me), I finally joined the "century mark" club on Monday. Like all previous outings, I never made this mark my primary focus for the day, but as Monday rolled on, I knew this goal was within reach and I had plenty of time to do it in.
I had the alarm set for 4:00 AM Monday morning, but I was awake by 3:40 AM and decided to get moving. I arrived at the first stream and was fishing by 6:00 AM. Things started very, very slow during the first hour. I even thought about jumping to another nearby stream, but something told me to stick around for a little.
Note: The batteries in my camera were almost dead, so I didn't take a whole lot of pictures. Since I had fished all the stream sections in the past and had taken stream shots then, the below stream pictures are of the actual streams I fished on Monday, but at different times in the past.
Stream #1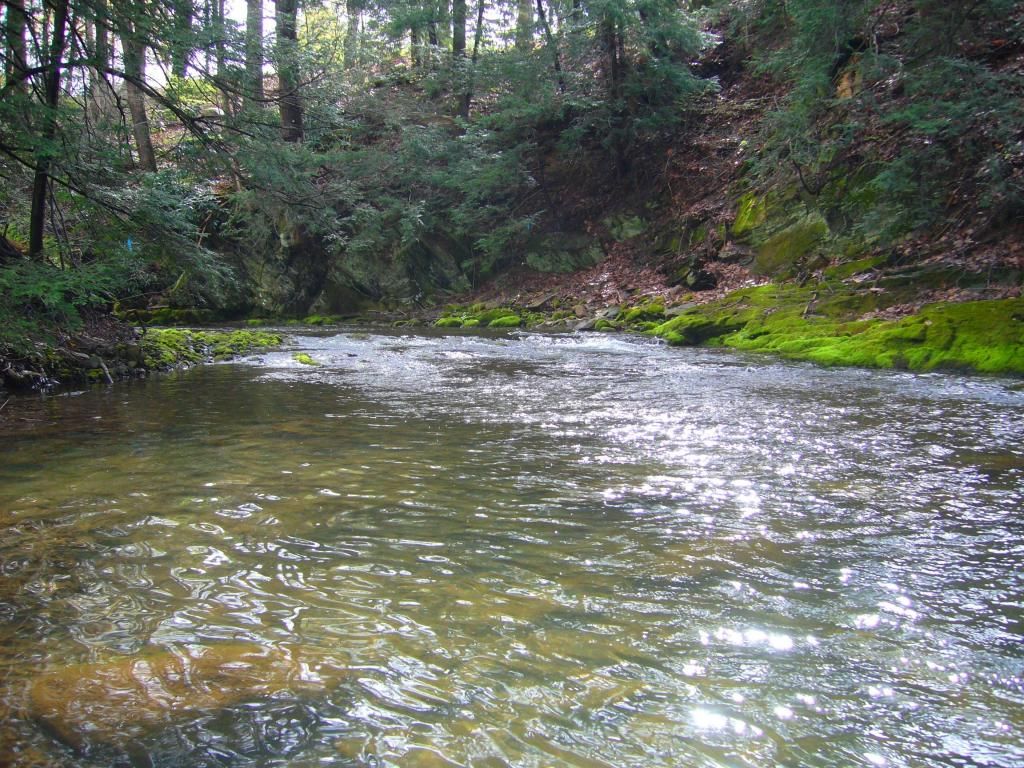 The first stream was a stocked stream with plenty of open access and a decent population of wild browns as well. Although the fishing during the first half of the stream was slow, things picked up considerably in the second half. In two and a half hours of fishing, I landed 29 wild and stocked brown, 4 brook, and 4 rainbow trout. I also hooked into what I thought was the biggest trout of my life, but it ended up being a huge sucker.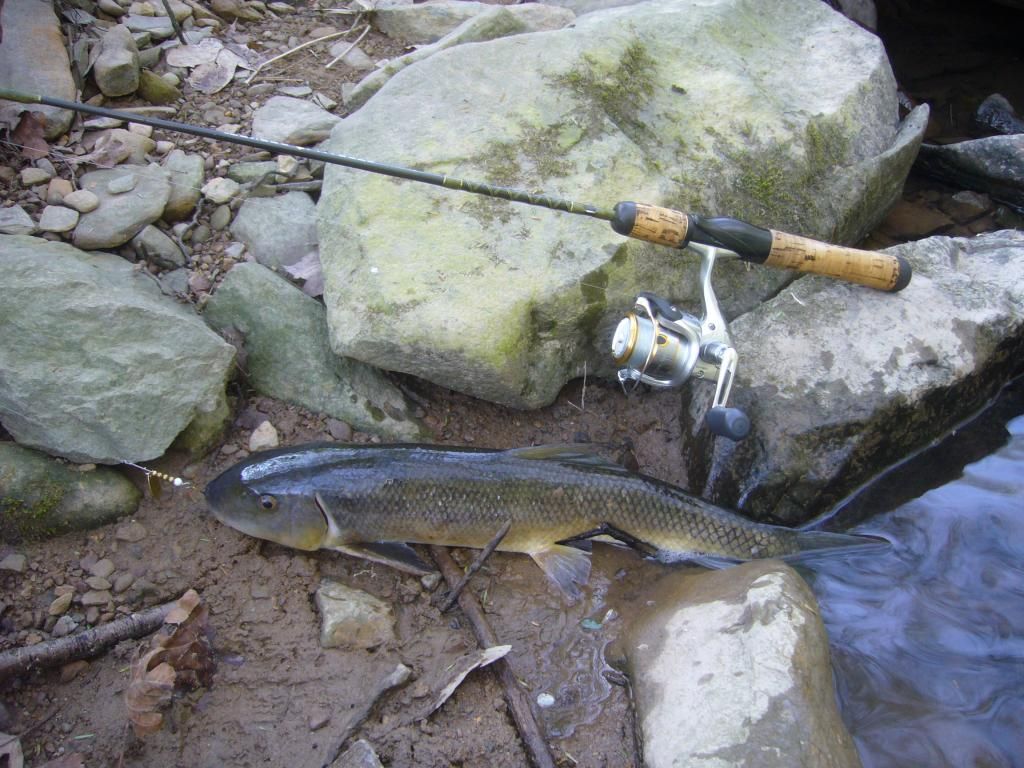 Stream #2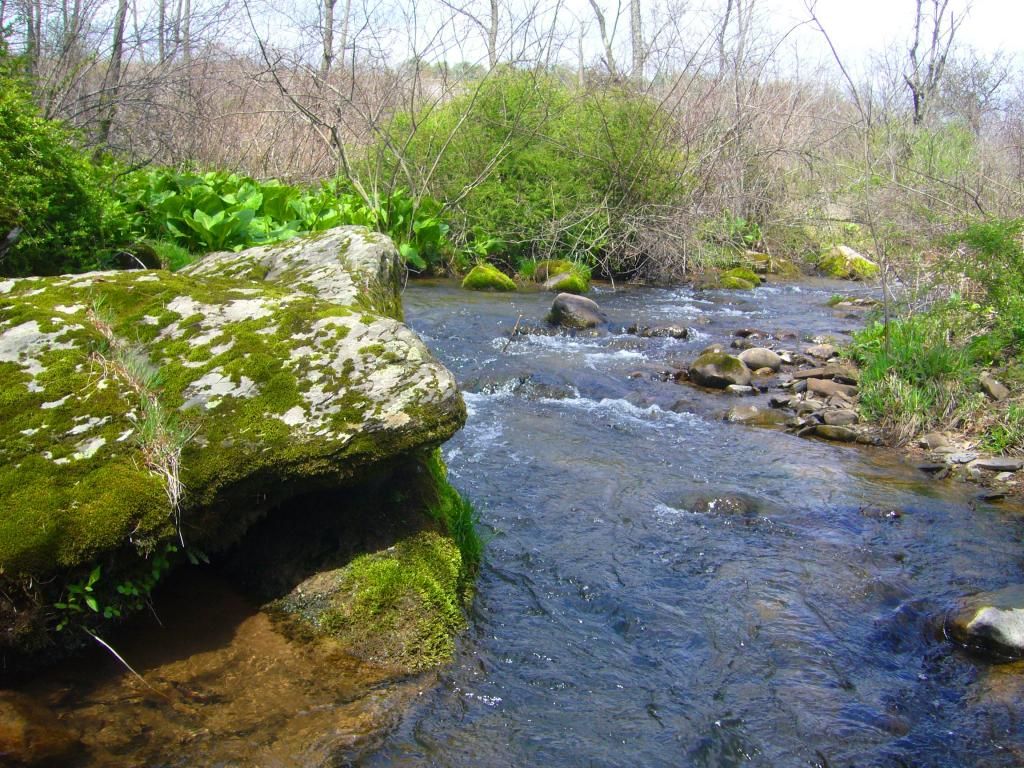 The second stream I fished was a tight, freestone stream that is unstocked. I struggled with my casts a bit and definitely spooked more than I caught, but after a half hour, I brought an additional 7 wild brown, 1 brook (with only one eye), and 1 nicely colored rainbow.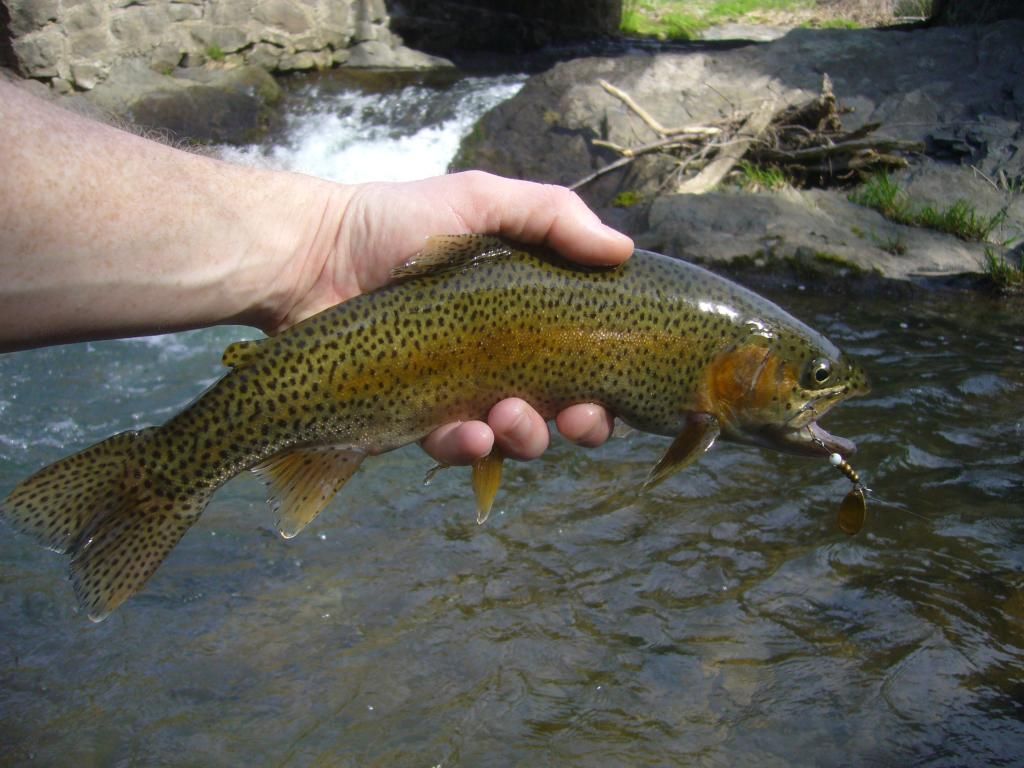 Stream #3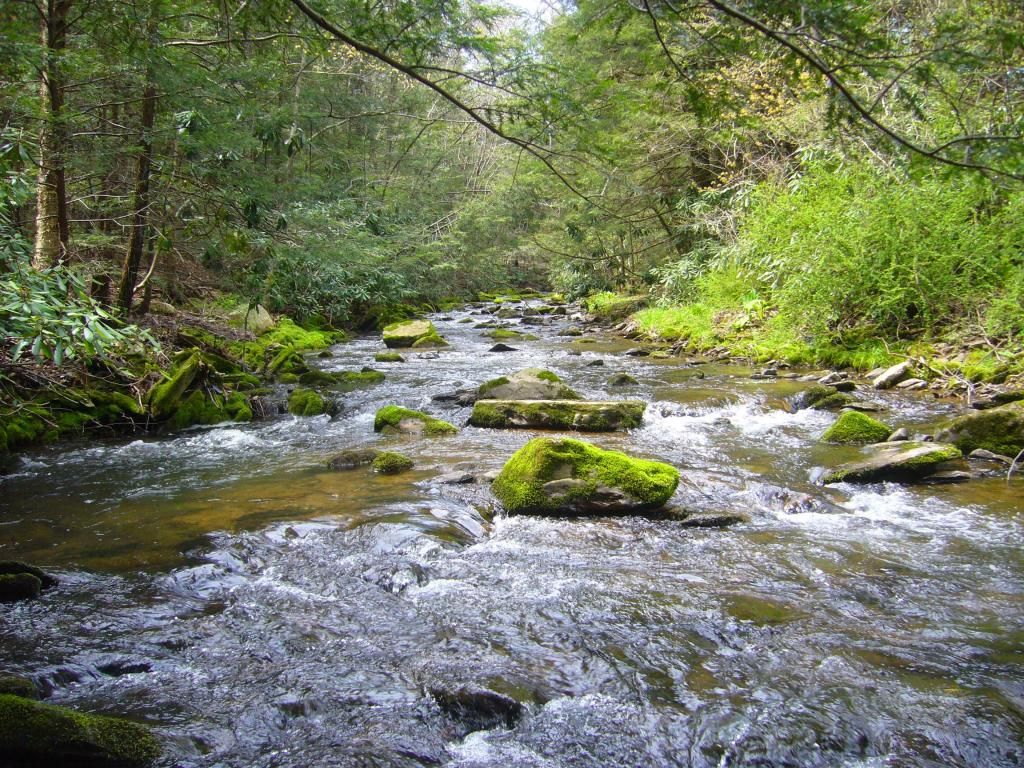 The third stream is one of my favorites. It is an unstocked stream that runs through some dilapidated buildings and then disappears for a bit into a beautiful wooded area. Every time I fish this stream, I'm never disappointed. After an hour and twenty minutes of fishing, I landed 32 wild brown and 7 brook trout.
As I was heading to my car and tallying my results for the day, I realized I was only 15 trout short of 100 and I still had a couple of hours before I wanted to head home. There were a few streams in the area that I had never fished before, but I decided to go for the sure bet and headed down the road about 15 miles to the final stream of the day.
Stream #4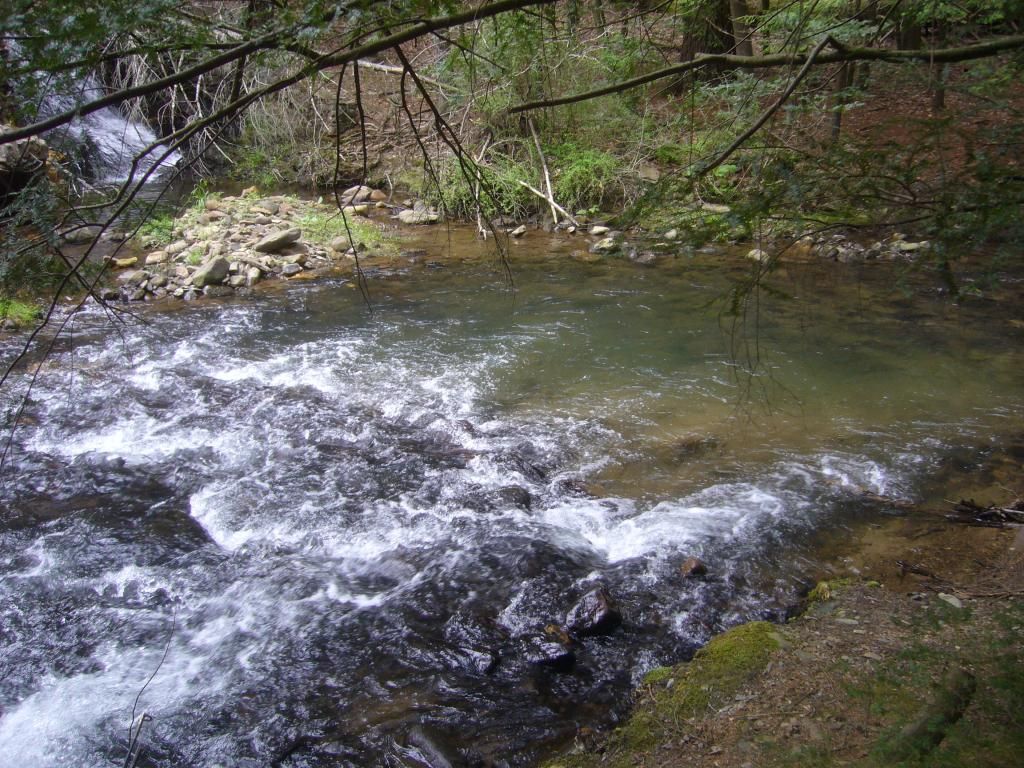 The fourth stream is probably my personal favorite. It fishes decent for me, but the surroundings are second to none in my opinion. My first half-dozen casts brought me 2 wild browns – 13 trout to go to 100.
Then out of nowhere, something came over me and I couldn't hook and land a fish to save my life. The next 10-15 minutes was miss after miss after miss! I was starting to get real frustrated at this point and even used some "not so nice" language. I finally regained my composure (and my concentration) and then it was lights out after that.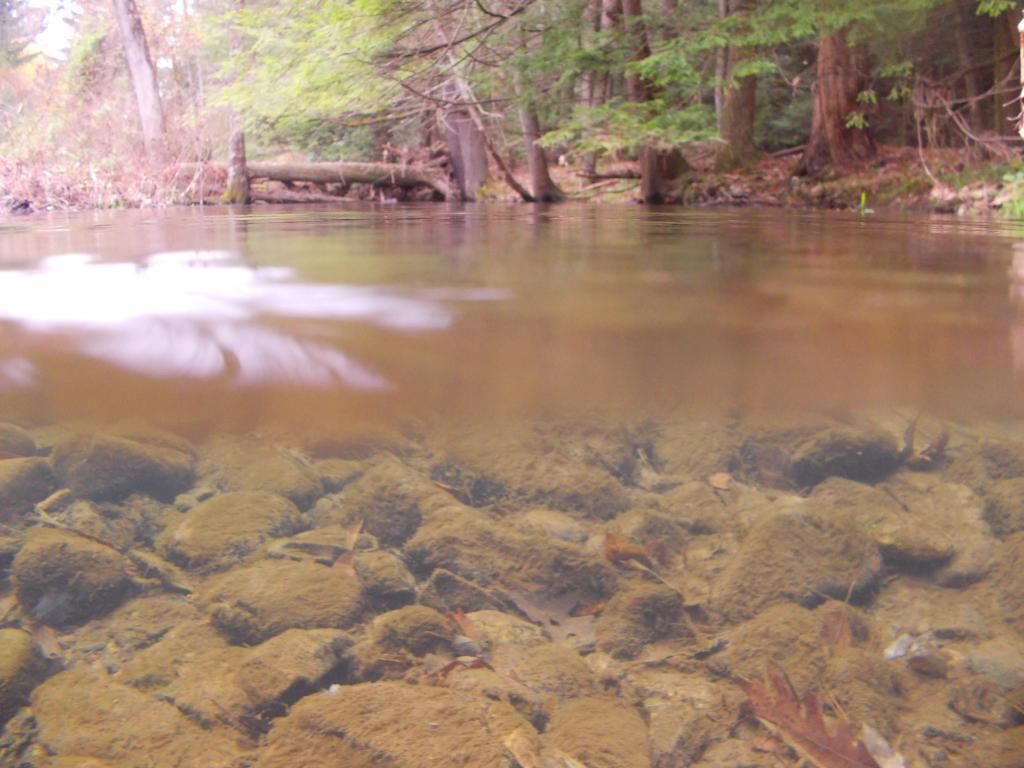 Number 100 should have been a decent 11-12" wild brown, but he decided to throw the hook about ten feet from me. Instead this monster was number 100!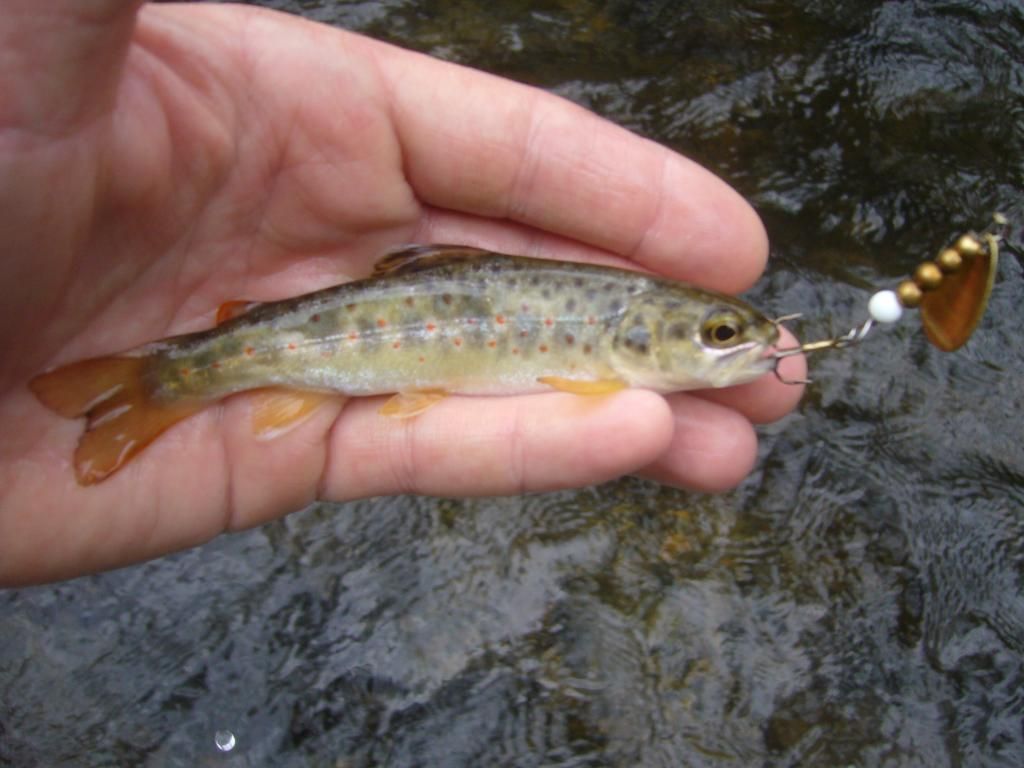 After an hour of fishing the fourth stream, I had landed 29 wild browns, which brought my total for the day to 114 trout (97 browns, 12 brooks, 5 rainbows) and 1 sucker. I definitely felt accomplished and to top it off I was able to spend the rest of the afternoon and evening with my wife and our three boys, which put a smile on everyone's face. I couldn't have asked for a better day off.
A special thanks to my dad for getting me "hooked" on fishing at a young age and my wife for putting up with all the early morning outings.