On Thursday late afternoon, my buddy, Al, took me aboard his "Miss Audrey Lynn" which is a little 14' aluminum Starcraft utility V-hull w/ a 25 Hp Merc eggbeater on the back.
Although we had never fished with bait on the flats in the past, we knew that the word was that the articial bite just wasn't happening yet. Consequently, I stopped and picked-up some fresh herring along with some 8/0 circle hooks from a non-sponsor B&T shop that anyone/everyone who regularly fishes the flats has had the good fortune to meet.
(Thanks again, Ele.
)
Rather than fish the river where I knew there would be lots of boats, I decided we should try some light-colored bottom areas at the Southern end of the flats near Sandy Point. After a nice cruise out from the Elk River, we crossed the bay on a course for Sandy Point.
However, we immediately had to make a change of plans when we noticed 4 APG patrol boats restricting any boat traffic near Sandy Point.
Ran North a bit onto the Flats in some other light bottom areas, and we managed to catch five nice stripers.
I got the Gr8ful grins started with a hefty 26-pound cow: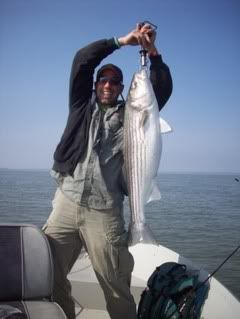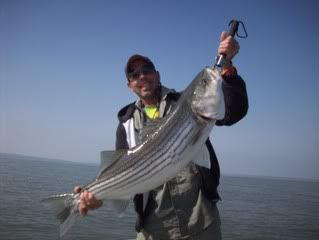 Al then went on a lttle spree landing 3 cows that went 21, 23 & 27 pounds along with another ~29 inch buck bass.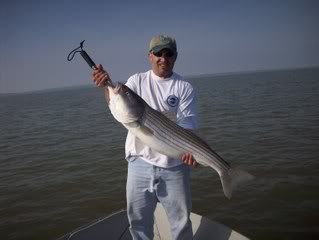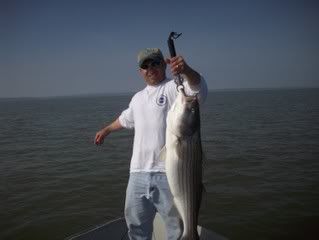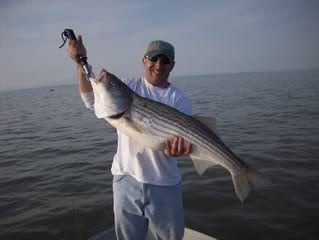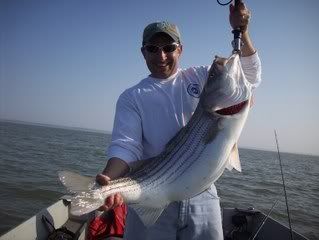 Water temps were 49 - 51 degrees, still stained , but visibility decent to ~1.5-2', depths from 8-15 feet.
All of the fish took the baits fairly gingerly and were conspicuously sluggish in their takes ... it wasn't a "grab-it-n-growl then tear off for the horizon"- kind of strike that makes circle hook sets easy.
All of our fish were photographed within seconds of removal from the water, and all of them swam off in excellent health when released.
Beautiful day on the water and over a 100 lbs. of bass in a 14 footer for the first outing of 2008 - AWESOME!
- Gr8ful