Discussion Starter
·
#1
·
Saturday a.m. - my guys had to cancel late Friday. Forecast was for 20+ winds and T-Storms with a high chance of rain all day. No sense in driving down from Harrisburg the night before only to get blown out. Anyway, NOAA Sucks! Here's your Small Craft Advisory come Saturday: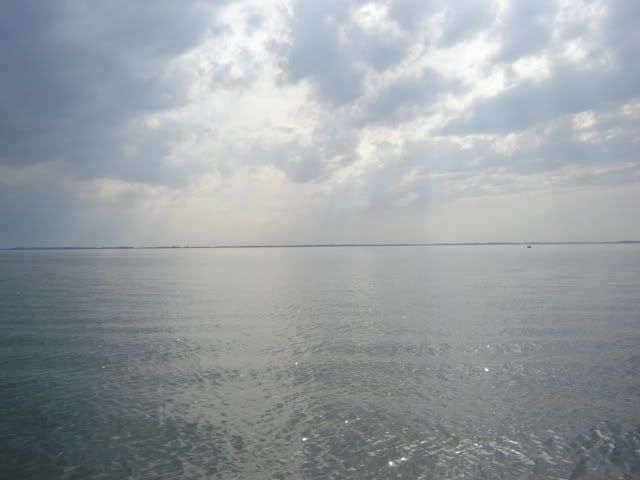 Saturday p.m. - Dante Delvechio and his crew took their chance on the weather and came down to do some jigging and plugging. We hit the water a little after noon and worked lures all day and came up empty. First skunking of the season. Weather was really weird but we never got caught in any rain or see and wind whatsoever. Apparently the fish didn't respond to the unsettled conditions. I gotta give it to the guys though, they kept fishing hard and didn't complain. Thanks for fishing with me.
Sunday a.m. - Chris Gass and 8 year old nephew Jake hit the water at first light to stiff west winds and a serious temperature drop. Marked fish all morning and beat them silly with Bass Assassins. Chris scored the only hookup landing a rather unimpressive Striper.
Sunday p.m. - Ernie Delheim and his buddies got the word the bite was off when they showed up. Undaunted we set out to battle the continuing strong west wind and cold water. The guys worked BA's for several hours between Turkey and Rocky Points without a touch. I made the call to look elsewhere mid-afternoon and we set out looking for something that would bite. Finally around 4 p.m. we got some pullage: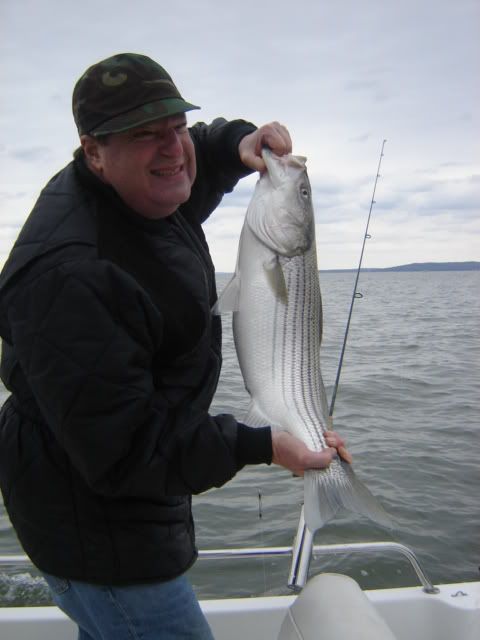 About an hour later we scored again:
The guys kept fishing, hunkered down in the gloom and cool wind. It was getting late and Ernie still didn't have a fish. He wanted to bag it at 6 o'clock if we hadn't hooked up again. I called for one final surge and we rallied the troops to keep hopes up. At 6:05 in the evening Ernie's reel starts singing that sweet song. Looooong run and lots of line lost and we knew he had a monster. His buddies were taking video and pictures of the fight and everyone's spirits were lifted watching him fight a real beast. We finally got her up to the boat and she appeared tuckered out. I got the leader and reached to grab her as she sorta layed at the side of the boat. Well she found a reserve of energy and shook her head HARD and snap goes the 30 lb flourocarbon leader like dry rotted string. I quickly shouted "A leadered fish is a caught fish", especially in Catch-n-Release fishing. We all got a real good look at her and the estimated weight was in the low 40 pound range. She looked something like this:
Ernie was happy so I was too. We headed for the barn with a total of three fish on the afternoon, one for each angler.
The water temps are back down in the upper 40's and clarity is still not great. Sure would appreciate a stretch of stable warmer weather. Taking today off. Be back out there on Tuesday.