I caught a ride out of Gulf Shores Alabammy on Sunday with my fishin buddy Joe on his 26 c/c Turdvee catamaran.
here's the pics
Sunrise Sunday 2-28 - poking along at 2 or 3 knots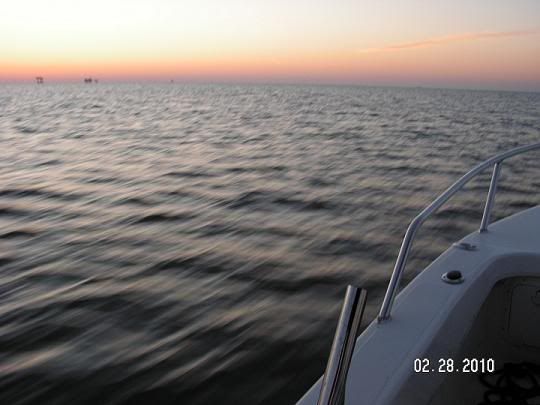 Burt Guy slaving away at deepdropping
Joe with his biggest GTile ever - 30 pounds even on the scale
(seen previously) Burt's very first GTile ever and the sumbitch gets hisself a 25 pounder!
Me with my biggest GTile ever - 24 lbs and change
A small selection of our 60 Tiles - 57 Golden Tiles and 3 ratshit Bluelines (I hate those friggin things)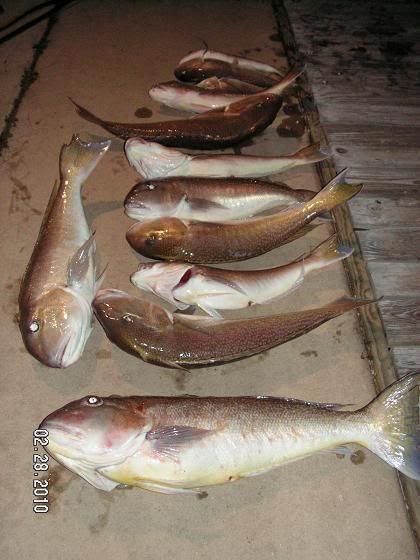 The fish that Joe, Burt & I are holding all went 24-25 lbs and the one hanging from the orange meathook was the 30 pounder.
We tried Joe's guaranteed Snowie Grouper numbers first but it was apparent that some assholes had been there before us only a few days before. The pick was slow and the Snowies were small. Joe'd got bigguns there two weeks before with nonstop fishing action, limiting out in minutes. Plus, there were three Bluelines mixed in and we didnt want them. So we split for Tiley Town, where I'd got a 20 pounder on the first drop back in early November.
We got the drift dialed in and proceeded to have a Fishing Bonanza Of A Lifetime(tm). Over the space of a few hours we got 57 Golden Tiles - most were at 5-10 lbs but about a dozen were over 20 pounds. The fish in the pictures were from one cooler alone. The other coolers were still waiting to blow out our backs as we lowered them from the boat.
Burt, great meeting you and fishin with ya! Joe, thanks again for another memorable trip.
Mark
Catch-All
Pres., 100 Fathom Fishing Club
p.s. see the Delaware Bay forum for my latest Delaware Bay fishing report. :thumbsup: