Discussion Starter
·
#1
·
Pelagic Outfitters Has Received....2nd Week of April
Here is our update of what has arrived recently. We are attempting (key word here is attempting) to keep you updated on new deliveries.
If there is something you are looking for and cannot find it please let us know and we can keep an eye out for you.
Here is the update of what has arrived the last week or so:
Black Bart Lures:
It must be getting warmer out cause Chris went a bit
Black Bart
happy with the order that arrived. I can honestly say there is not a
Black Bart Pre-Rigged Lure Pack
or
Single Unrigged Black Bart Lure
that we do not have in stock. On top of that Chris also stocked up on various 1 off's of unique head colors and can skirt them anyway you'd like.
Hal-Lock:
- in all three available sizes.
HL
- For use with any outrigger for a single drop back.
HL2
- For use with any outrigger where a double drop back is desired.
HL3
- For use with any outrigger when a triple drop back is desired.
Avet Reels:
We received a very nice array of
Avet SXJ
&
Avet EXW Reels
as well as stocking up on
Avet Reel Covers
Grunden's Foul Weather Gear:
Besides our usual
Grunden's weekly fill in order
we have also received a fairly nice selection of kids sizes.
We have added
Grunden's Eat Tuna Hoodies
to the Grunden's Eat xxxx hoodies we keep in stock.
Shimano:
Assorted Sizes of Shimano Reel Covers
Shimano Baitrunner D Spinning Reels
Shimano Spheros Spinning Reels
Shimano TLD 2 Speed Reels
Shimano Trinidad A Trolling Reels
Assorted Shimano Terez Rods
Shimano Blackmoon Fishing Backpack
We received a nice shipment of
Shimano Evair Boots & Shoes
in all sizes.
Shimano's latest introduction to footwear is the multiple application Evair Marine/Fishing shoes & boots featuring ultra lightweight EVA material with an ergonomic arch and non-marking high traction sole.
We got in our weekly fill in order of
Shimano Jigs
If we do not have the one you're looking for we'd be amazed. We got a HUGE delivery of the
Shimano Waxwing Saltwater Jigs (68-138mm)
In misc. gear we received:
AFTCO - MaxForce 1 Harness
iLand Lures in all shapes, sizes and colors
We received a huge delivery of
Mustad,
Owner
&
Trokar hooks
Gift Ideas:
- We have received all types of great small "must have" essential fishing accessory items, rod/reel combos, bulk spool line, etc. We have put together a special
Gift Ideas
page which presents all these opportunities. This section will continue to have product additions so please give a peek every couple/few days for updates.
BTW -
We have started a
Deal of the Week
page. Please take a look for extra special opportunities.
This weeks Deal of the Week is an unrigged 5.5" Tuna Feather in your choice of 6 colors for $7.50 each or a 6 pack with one of each for only $39.99 with a single pocket lure bag
.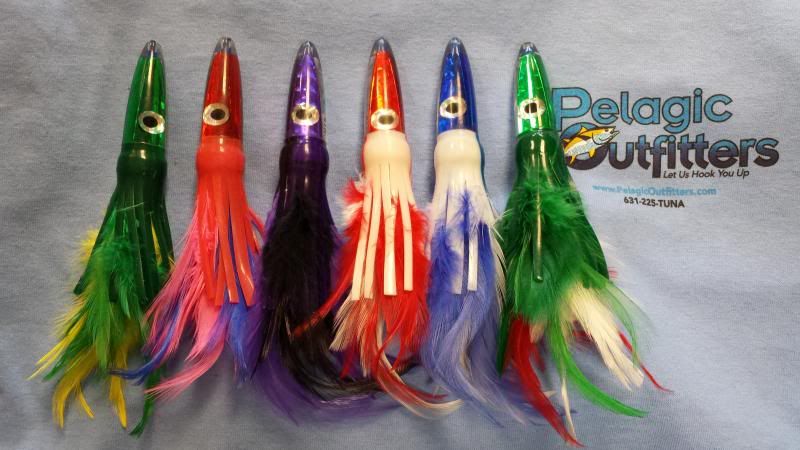 Thanks for your continued support it is greatly appreciated. Please feel free to call us at 631-225-8862 or e-mail us
[email protected]
to discuss your fishing needs.
Catch'em up
Doug & Chris
Thank you for your continued support.
If there is anything else that we can assist you with please let us know.
631-225-8862
For your Fishing Tackle needs please visit
www.PelagicOutfitters.com