Discussion Starter
·
#1
·
We had a total crew of five (TJHhunter, Ben, Greg, ED and I) for today. We left the Barnegat light ramp around 7:15am. We would have left earlier but I needed more tide water to help float the Regulator off of the bunk trailer.
I wanted to go as far out as 30 miles but I let the weather dictate how far we actually went. After getting about 3 miles off the beach it started to get quite bumpy. Therefore, we fished the first several hours at GSN. We picked away at some decent tog. They seemed to prefer fresh surf clam over crab (white and greenies) & cooked shrimp.
By this point the seas had died a little and I was thinking that we had about a three hour weather window before the fan turned on. With the crew's support, I rolled all of the dice and headed another 15 miles east to a little spot in no man's land. Scary place to be in late January.
Anyway the move paid off big time. We fished this spot for just over an hour and caught about 12 keeper cod and 10 keeper tog. Some of the tog were around 8 pounds and the largest cod was about 10 pounds. Lastly, the doggies were someone of a nusiance.
At about 12:30pm I blew the horn and raced back to the inlet to try to beat the blow (which we did).
Here are a couple of lousy pictures of some of the fish.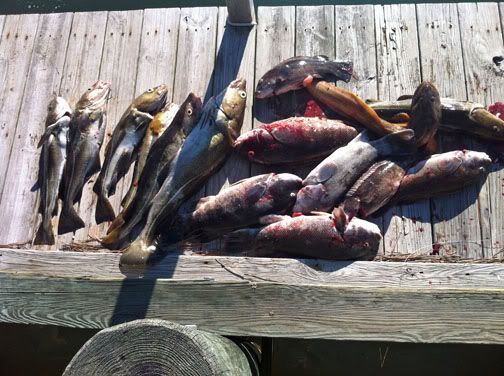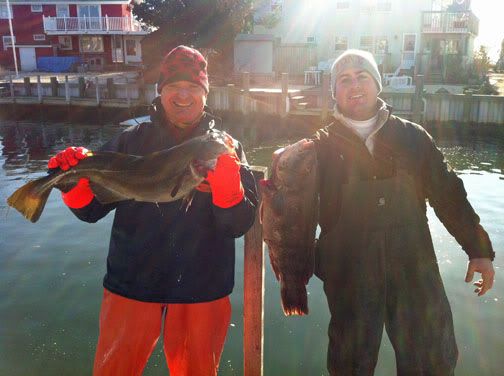 For a late day in January I give it a fisherman's 10:thumbsup:.
Peter