A reminder we are available for bottom fishing charters starting February 1, 2010 for Sea Bass, giant 5 lb plus Triggers and other fine tasting bottom dwellers down in Morehead City, NC.
We will also do combo trips where we troll in the Gulf Stream waters for Wahoo, Blackfin Tuna and possibly Giant Bluefin and spend part of the day bottom fishing the deep water rocks piles and wrecks. A little later in the spring there may even be Yellowfins showing up but the last few years they have been scare down there in the spring. If the Bluefins in the 150-200 lb range should show up like they did in March last year off Hatteras we will be jigging for them along with AJ's up to 80-90 lbs that will test any anglers when caught on a jig. Anglers are allowed to keep one BFT less than 73 inches for the table if we catch one this size.
The bottom fishing is outstanding this time of year down off Morehead City, NC and it should be no problem loading up your cooler with tasty Sea Bass fillets and other great tasting fish caught on the hard corral bottom which is abundant down off MHC.
Here are some pictures we took recently between 20-30 miles off the coast while Giant Bluefin Tuna fishing showing the large schools of bottom fish. We can show everything we see up on the bridge on our 40 inch HD flat screen TV in the salon so our customers see exactly the structure, depth and schools of fish when they drop their jigs or baited rigs down.
The fish pictures and report was written Capt John (Procastinator on the Barn) as he will be working on the Hooked Up 11 since he now lives down in the Morehead City area and has endless list of great bottom structure locations that hold Sea Bass and an whole lot of other the tasty fish that can be caught on both jigs and top and bottom rigs.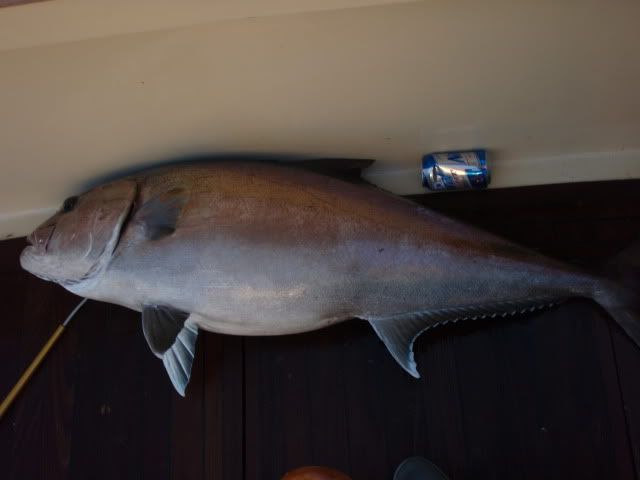 Big Amberjack... a real back killer!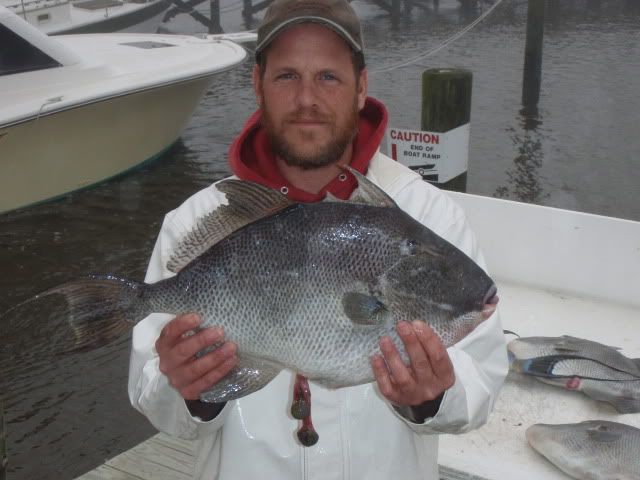 Nice sized grey trigger.... one of many.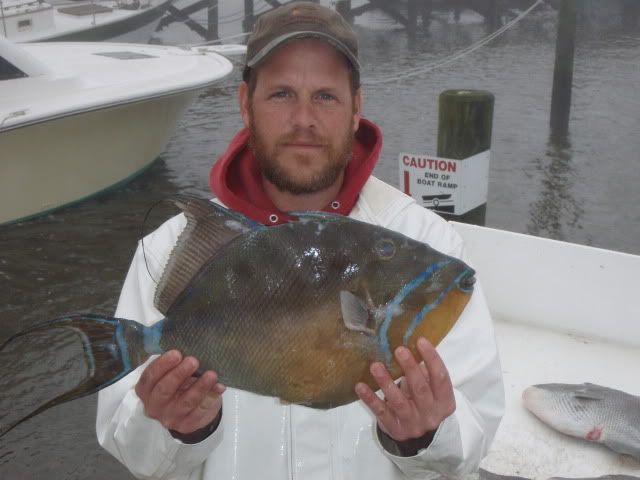 Beautiful Queen trigger..... they are like a dolphin,they loose color after they come out of the water.
Seabass and Giant Triggers, w/ pics
Again, the GBFT fishing has been painfully slow, so, Ricky and I got another case of fishing A.D.D. and went to the jigging rods for some action. We have freezers full of seabass fillets, and it was a beautiful day, so we went looking for for some other tasty critters. Triggers were on the menu, so we pushed off a bit deeper and found them.
They were big and plentiful, however, the grouper turned on and wouldn't let us at the triggers. After having to vent and release grouper to over 50 lbs
, it was apparent that we were gonna have to find them where they didn't have their grouper body guards wearing us out. We planned on spending the night offshore but our plans changed as we were informed we had a pair of guests joining us for tuna the next morning. We headed back in , only to turn around a couple hours later and grind on tuna again.
The tuna were a no show in the morning again so we took our guests Justice and his wife Angela jigging. They had a ball pulling up seabass, and Justice caught a large gag grouper for a nice picture and healthy release. We didn't get too serious on the seabass and we moved around a bit to check out some new wrecks with the flat calm 63 degree weather. It was a fun day with Angela being high hook, and me sitting on the bridge enjoying the endless ball busting. Ran back in slick conditions with another great day under our belts. Didn't keep too many seabass, just enough for a handful of meals for Justice and Angela.
It sure is nice to end a frustrating day chasing giants with some good old fashioned jigging.
Justice's First ever grouper.