Discussion Starter
·
#1
·
I had the pleasure of having a fun family trip with my Father, Big Sister Karen, and family friend Jack aboard for a low pressure fun jigging trip. All three were newbies when it comes to fishing the blue water. I picked Thursday due to the beautiful forecast and we headed out to the Big Rock area.
Before I get into the fishing, a bit of history on my Father. A bit over two years ago, my father was severely burned in an industrial accident. He was eating lunch in a control room in an asphalt plant he was visiting, when a huge service disconnect panel exploded. He was knocked out, and suffered 3rd. degree burns over 60% of his body and had severe lung damage from inhalation of superheated air and smoke. When I got to the burn trauma unit he was air lifted to, the doctors had a grim prognosis. The doctors gave him a 120 % chance of not making it through the ordeal. Well, after he spent the next 3 months in a drug induced coma while the doctors struggled to find enough good skin left on his body to do the numerous grafting surgeries, he fought through it and awoke. It was a terrible time for my family as we watched our hero lay lifeless on ventilators, while he weeped fluids soaking the hospital bed, while ventilators kept him going. Time and again they would send him to the O.R. to try and find more skin to fix the wounds. He fought through it all, endured unspeakable pain and now, a day before his 65 th. birthday, we fished together once again.
We enjoyed a smooth fast ride out to the first drop. Soon enough Dad was toe to toe with a reef donkey. His balance isn't what it used to be due to nerve damage in his lower body, so he sat on a cooler in the bow and bested many an aj. Karen and 73 year old Jack also got in on the action catching aj's, fat alberts and blackfin, then, mother nature threw us a curve ball. The wind came out of nowhere, the seas built and it was soon uncomfortable for the crew so I pointed the bow back inshore to calmer waters and watched the crew play catch and release on sharks and seabass
It wasn't a trip with boxes full of dead fish, however, it is my favorite trip to date. Being able to spend a day on the water with one of the people who started me fishing, a man who isn't supposed to even be on this earth, beats full coolers anyday !
THE FIGHTER, DAD !
JACK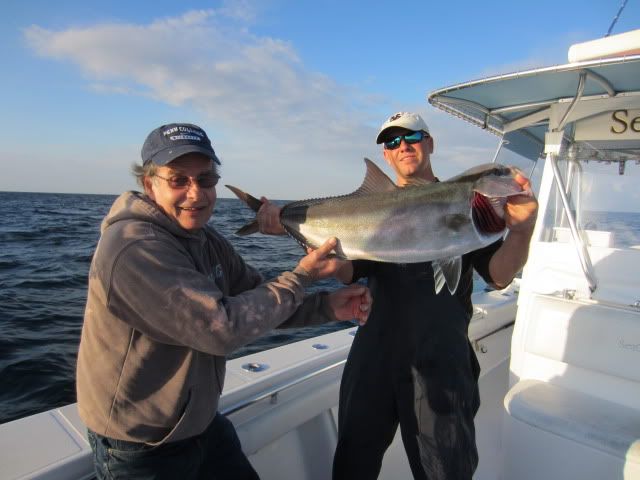 SHARK WRESTLING
Dad with an AJ
Blackfin on the jig.
_________________