Discussion Starter
·
#1
·
It's easy to say captains run boats for the money, but if you know the business, you'd realize that can't possibly be the case. It is days like yesterday that remind me why I truly love what I do.
Stan brought his family (kids) down yesterday. He originally booked the trip for sea bass, but I told him there would be a bit of a swell on the ocean and the sea bass fishing hadn't turned on good yet, and that the bluefishing was a better option. He was a little leary, but the kids were all for it; I have never seen a man as dedicated to making sure his kids enjoy themselves as Stan, so bluefishing we went. They weren't disappointed.
90 bluefish later, we were done fishing at 9:30. Going around in one big circle we kept right on the fish. I don't know why bluefishing has developed a bad rap for some, because this is as good as it gets. Steady fishing with a good fighting fish, and when you fillet the blues under 3 pounds, the meat is just as white as any flounder or sea bass. By 8:30, when the first rod would double over, they were debating over who would reel that one in; when all four lines had fish on, it was a collective groan, and a good one! They kept at it, and Stan got a huge reward.
While he was resetting a line, a fish picked it up and started peeling drag. 15 minutes later, Stan had his first ever striped bass in the boat, a beautiful 36", 17 pound fish.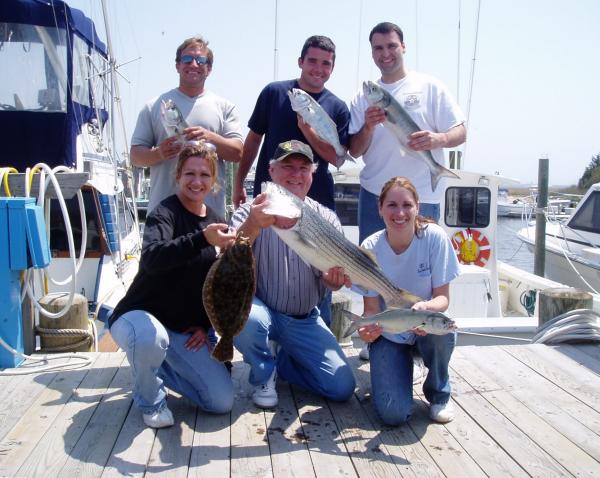 Stan said the day was for his kids, but he looked pretty happy himself!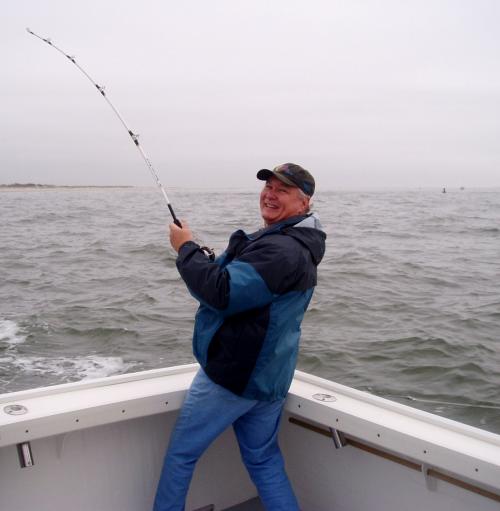 I finished up the morning drifting in the bay to try to find a flounder, and even that worked out. A few drifts gave me a chance to re-rig all the gear the bluefish tore up while catching a few throwbacks and watching Stan's daughter get a nice 19" flounder. Back at the dock before lunch, what a day!
Sure, the fishing was great, but that wasn't what made the day so special. If you think for a minute about why a man would want to get his kids out on a boat fishing on Mother's Day, and then see a day like this, you realize that even when those special someones in our lives are no longer here, they must truly be somewhere watching over us. When that striper hit the deck and you saw how happy he was and his kids celebrating with him, I'm not ashamed to say it about brought a tear to my eye.
[ 05-10-2004, 05:15 PM: Message edited by: captadamnj ]